Quality and Safety, PB/OEM Production

Shibanuma Research and Development Center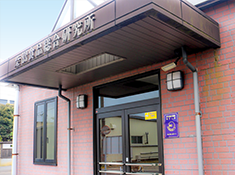 Our research and development center is located within the same premises with our head office and factory in Mushikake, Tsuchiura. The facility is steel frame single storied building with total floor area 260 m², sophisticated analytical instruments in its quality control room, dedicated kitchen and room for product development.
Quality Control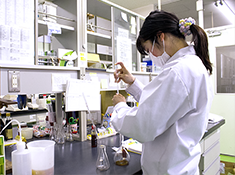 Keeping up a tradition of a 300-year-old company, we have been responsive to meet the needs of the times and have continued to take on new challenges. Throughout our history, we have consistently made it a principle to establish and adhere to our quality control systems. In each production process such as selection of raw materials, fermentation, maturing, expression, pasteurization (hiire) and bottling, we implement various items to be checked for ensuring consistently high quality.
PB/OEM Production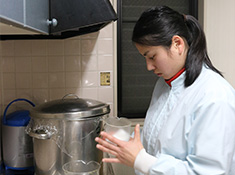 We support your product development by offering various custom-made liquid seasonings based on your product concept. In-depth consultations with our technical staff of product development team and our sales representative, as well as cumulative improvement of trial products help you successfully bring forth a new product under your own brand name. Moreover, we have a flexibility to accommodate small and large lots alike: we offer customer-oriented systems on receiving orders.
From the perspective of a customer, just as a concierge, we are always ready to meet any needs. We can localize label design and the language. It is also possible for us to propose Japanese recipes in parallel with developing an original seasoning.
Our products are available in various types of packaging upon request, such as sachets for take-out (3–30 g), small plastic bottles for noodle sauce (30 ml), plastic and glass bottles (100 ml–1.8 l) and 1,000 l containers for food factories.
Cooking kettles of our factory can accommodate small lots from 300 l. We can still find a satisfying solution when you need products under a private brand label with a small lot.
Our product list has a wide variety of soy sauces such as koikuchi, usukuchi, gluten-free tamari, shiro and alcohol-free, as well as other sauces for teriyaki, yakitori, and grilled eel. We have almost 800 recipes including dressings, ramen soups etc. to cater to the needs of the customers from different countries.