Global Business
The export of our soy sauce was started in 2010. The first destination of the koikuchi soy sauce was Australia (Melbourne and Sydney).
We made visits to Japanese restaurants from door to door, explained the quality of our soy sauce matured in wooden barrels with special care to their head chefs and owners, and gained reputations, which led to an increase of the exports.
In 2011, we gained a good foothold for expanding our business overseas by receiving orders from head chefs of some restaurants and owners of sushi chain restaurants, who visited the booth we ran in the SIAL Paris 2010.
As of 2017, we export our product to more than 35 countries. We are working to expand our export destinations and amount, through customizing the taste for each country, maintaining the quality, and properly dealing with matters such as differences in labeling requirements.
Major Export Destinations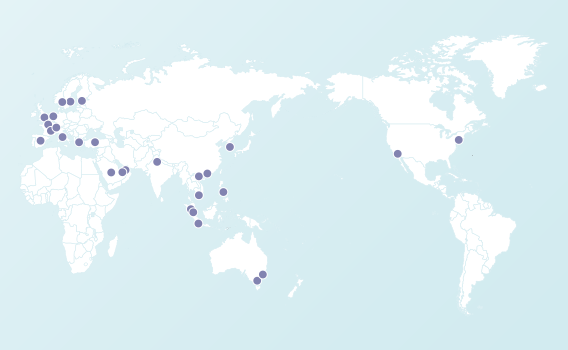 Europe

Switzerland
France
Italy
the Netherlands
UK
Sweden
Germany
Norway
Belgium
Estonia
Finland
Spain
Greece
Turkey

Asia

Korea
Vietnam
Indonesia
Philippines
India
Singapore
Hong Kong
Malaysia

Middle East

Oceania

Americas